We believe that breakfast is related with happiness. Starting the day with a happy breakfast, entering in one of Istanbul's most beautiful village and local breakfast places will help you spend the day energetically. To accomplish this, we have prepared the guide for a rich breakfast place, which includes the most beautiful village breakfast places, places with organic breakfast tables, local breakfast places in Istanbul. You can reward yourself with a spacious and luxurious breakfast environment with a view of the sights of Istanbul. In addition, the breakfast places in here offer rich local menus at affordable prices, offering you an environment where you can easily meet your family or friends for a nice breakfast. We have tried to create a list which is liked and preferred by everyone by combining breakfast places with the European Side breakfast places and the Anatolian side breakfast places while determining the best Village and Local breakfast places in Istanbul. Among these, although there are new places which are famous with their tastes in a short time, there are also historical places that have proven themselves with the service they have provided for years. Without waiting for more, Istanbul local and village breakfast places are listed for you. Let's start: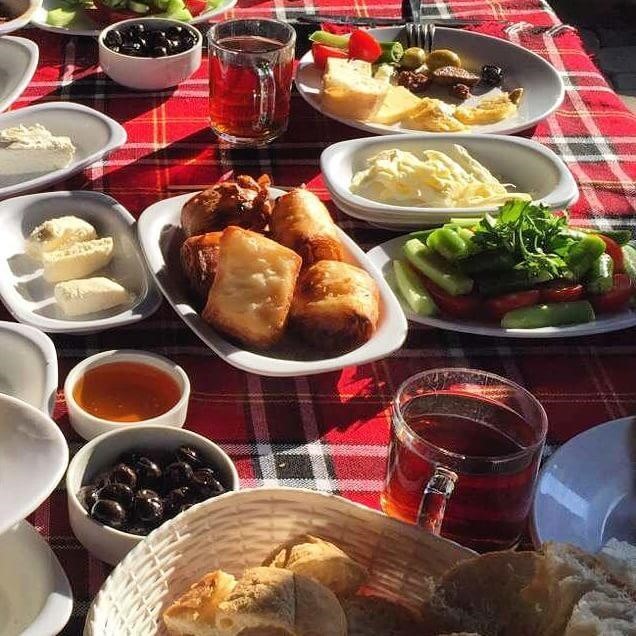 In the first place of our village breakfast list in Istanbul, Polonezköy is one of the rare places for families who love to be intertwined with nature.
After passing through the Kavacık exit on the Fatih Sultan Mehmet bridge road and passing Acarkent, Polonezköy can be reached by following the signs and my favorite place in Polonezköy is STELLA. I think it is one step ahead of the similar ones in the region with its landscape overlooking the forest, its green ambiance and its direct connection to the forest road.
Hatay Gurme is the second of our list of village breakfast places in Istanbul. You can enjoy a luxurious breakfast with a tasty and rich menu.
In a friendly and high-quality ambience, this full-packed two-person breakfast tray, which is diversified with the Antakya cuisine, is served with unlimited tea.
The third of our list of breakfast restaurants to be served as a village breakfast, Polina, is a green Polonezköy breakfast place which is known with it's homemade cakes, jams, village peppers, ring-cut fried potatoes, and parrot named Cabbar. Polina Polonezköy breakfast prices are also very convenient.
4. YOROS CAFE, ANADOLU KAVAĞI
The fourth of our list of village breakfast places in Istanbul is Yoros Café which is next to Anadolu Kavağı, overlooking the castle of Yoros, seeing the unique Bosphorus view of Istanbul from a beautiful angle.
5.KULİNDAĞ, MAHMUT ŞEVKET PAŞA VILLAGE
Kulindag, which is reached from the distinction of Mahmut Şevket Pasha Village as you move towards Riva, is a chalet just next to a forested valley. The place is the fifth of our list of places to have breakfast in Istanbul. The biggest feature of the place, warm pide, pizza, pastry and other bread varieties from their own ovens, and a green forest, plenty of oxygen and bird sounds.